Congress 'The State of the Animal': plea for connection
The public debate concerning animal welfare might seem polarized, however the RDA jubilee congress 'The State of the Animal' held yesterday in Santpoort became a manifestation of connection. While convictions and perspectives strongly differed sometimes, the middle ground turned out to be strongly represented and the will to keep communicating with each other turned out to be strong.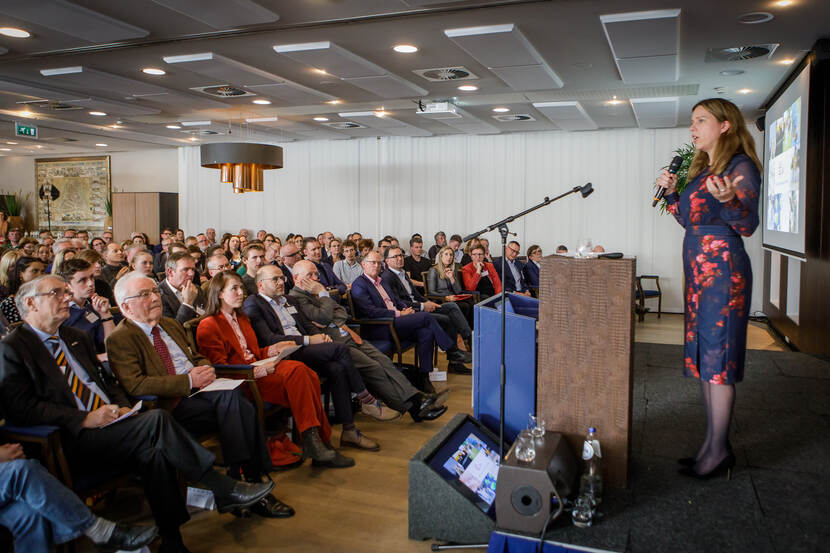 Animal welfare improved
At the start of the congress the results of a survey on animal welfare, commissioned by the jubilating Council on Animal Affairs, were presented. In the first place they showed that many people in the Netherlands, similar to the participants of the congress in the fairy-tale like estate of Duin- en Kruidberg, had seen progress in the welfare of the animals in the last 25 years.  Less obvious the results showed that there still are many concerns, sometimes about topics which weren't an issue yet at the end of the last century, like mega farms, gene editing of animals. Yet the answers on most of the questions were normally distributed according to the presenters, which means that most people responded with moderate scores to the presented propositions.
Surprising and outspoken visions
Minister Carola Schouten of Agriculture, Nature and Food Quality, who came to Santpoort to congratulate the Council personally, also joined the debate. Which has become more intense over the last couple of years, she said. 
In my experience the flanks have become more fierce, they have taken a stronger stance. Yet I do want to include these flanks, because that adds value to the debate
as she was recorded by many twitterers. At the same time she sketched the ambiance at the congress with this statement, where no secret was made of obvious opinions, but where eagerness to listen to surprising and outspoken ideas dominated, such as the language proficiency of prairie dogs and chickens.
Keep bringing in knowledge and emotion
The same pattern was shown by the so-called breakout sessions, smaller meetings about specific subjects like the killing of animals, the cow and the godwit, humanizing animals and the gaps in the regulations concerning animals. No subject was shunned. The RDA thus proved to be a connecting player on the stage of the heated societal discussions, and therefore a player who has an important part to play. The latter was also noted by Minister Schouten:
You have the knowledge and the emotion. Keep bringing that into the social debate. I am helped with that too!
Dutch spoken video report RDA Congress 'the state of the animal'